If you're looking to find some extra space for storage, or want an interesting way to add a little more living space to your property, then you should consider one of our garage plans. We have designs that are standalone, as well as ones that are attached to living spaces. But the one thing they all offer is serious curb appeal and practicality.
Don't settle for extra space that doesn't offer the kind of versatility and functionality that a garage layout design can offer. We've put together a list of some of the best garage design and layout plans we have, but be sure to check out our entire collection. If you find one that interests you, contact a Houseplans representative at 1-800-913-2350.
Country Style Garage Plan
An easy way to accommodate four vehicles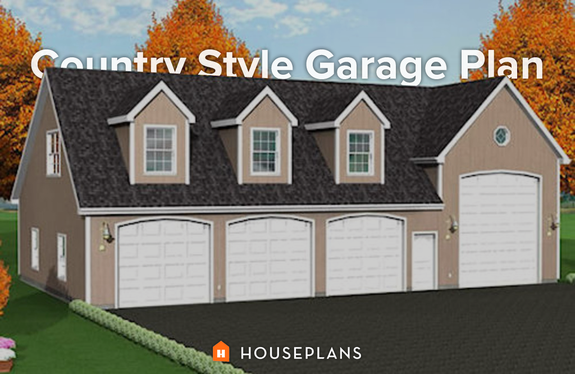 Country Style Garage Plan 75-205 - Front Exterior
Looking for extra space? You'll find lots of room for storage with this four-car garage (plan 75-205, above). With room for an RV, your vacation home-away-from-home is nicely protected. You can also access the garage via the first-floor door, and climb the stairs to the second floor. Here you'll find plenty of room for storing almost anything. The three front-facing windows also offer a nice touch.
Craftsman Garage Design
A classic way to store vehicles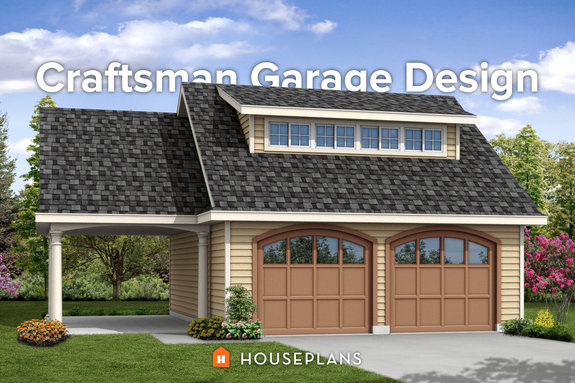 Plan 124-1050
If you're looking for a garage plan that offers vehicle storage and plenty of natural light as well as a carport, plan 124-1050 (above) might be the garage for you. Offering 1,068 sq ft of space, two cars can be housed inside and an additional one stored under the carport. The ceiling height for the garage and carport is 9 ft. Additional loft storage is available and accessed via a pull-down ladder.
Prairie Style Garage Layout
There's lots of room for vehicles and storage in this plan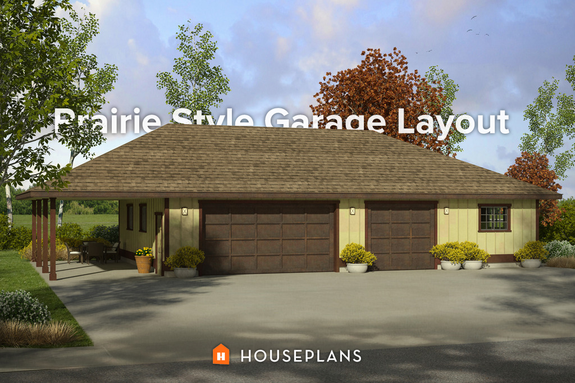 Plan 124-994
This stylish garage plan (plan 124-994, above) offers 1,968 sq ft that can be used to store up to four cars, both inside and outside with use of the carport. There is a double garage door--at 16 ft wide at 8 ft tall-- which allows for generous space when moving vehicles in and out. In addition to a vehicle area, there is also room for a workshop or tool storage.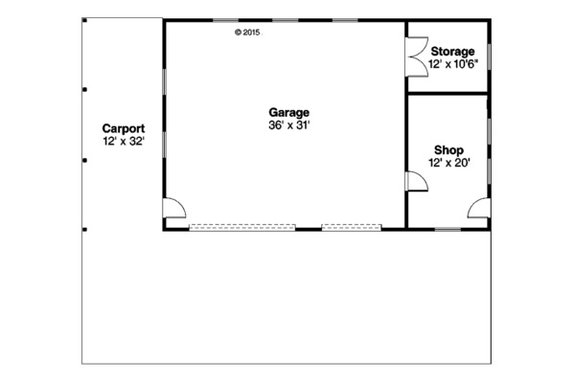 Traditional Style Garage Plan
A two-story garage with plenty of space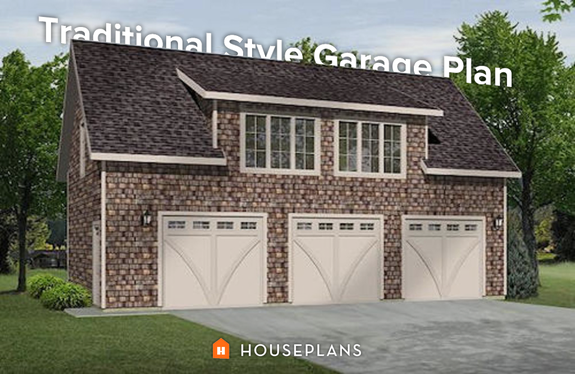 Plan 22-541
When looking for additional garage space, you want to get the most out of every square foot in a plan. This garage (plan 22-541, above) is only 742 sq ft but it can really hold a lot. You can store three cars on the bottom floor, each with their own separate door, each 9 ft by 8 ft. Stairs offer access to the second floor, where you'll find an impressive amount of storage that can be utilized according to your needs (for cheap storage tips, check out this article from Family Handyman).
Country Style Garage
A garage plan with versatile storage space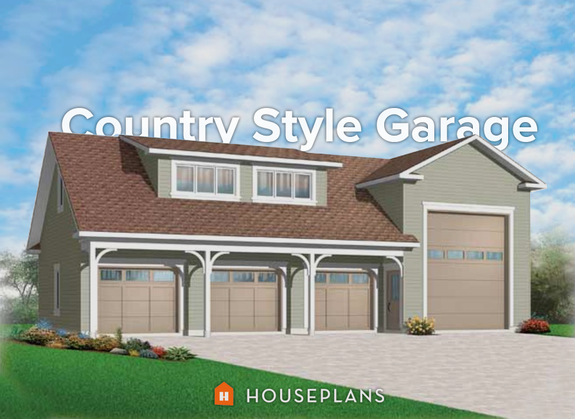 Plan 23-2427
Whether you need additional storage for an RV or want a versatile office space, this garage plan (plan 23-2427, above) can accommodate both. The bottom level allows for enough space for three cars, in addition to an extra long 40'8" space to store either an RV or a boat. The second-floor space could be used for additional storage, a workout room, an office, a studio, or even an apartment.
Farmhouse Garage Plan
An eye-catching design for your garage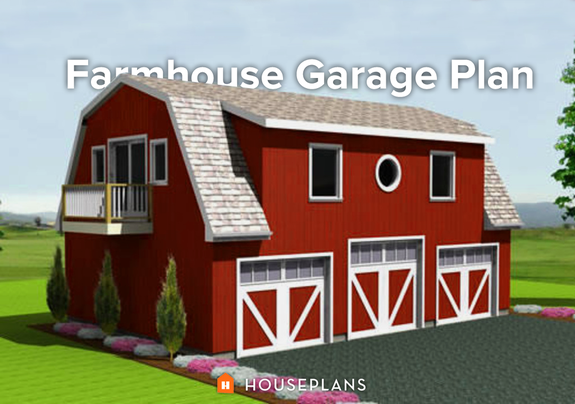 Plan 75-200
This garage design (plan 75-200, above) would be a striking addition to your lot, and provides ample storage for cars as well as plenty of well-lit extra space. The first story can accommodate three cars through the attractive barn-style garage doors that lead into a garage space with 10' ceilings. The additional second-story loft is accessed by a staircase and could function as storage, additional work space, or an office. There is also a balcony off to the side of the loft space accessed by a sliding door.
Traditional Style Garage Layout
This garage plan is big on style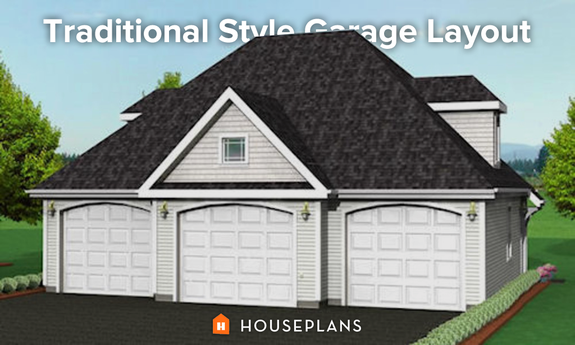 Plan 75-188
The elegant style of this garage plan (plan 75-188, above) might be just what you're looking for. The center garage door is 10 ft wide, while the other two are 9 ft wide and open up into a spacious area with a 9 ft high ceiling. The back stairway leads to the second floor loft with a ceiling height of 8 ft. There is also a side door included in this 1,092 sq ft unit for ease of access.
Traditional Garage Plan
Find all the space you need with this design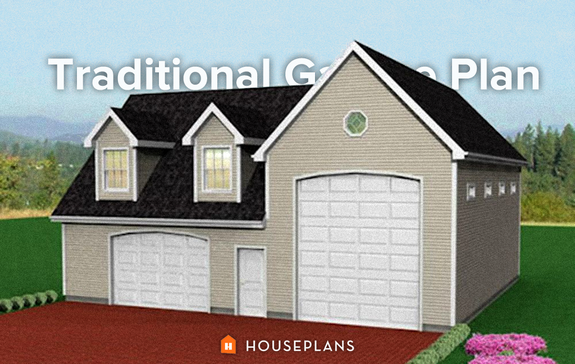 Plan 75-203
If you're looking to store a boat or RV as well as personal vehicles, this 1,852 sq ft garage (plan 75-203, above) is a great option. The garage door is 12 ft high and opens into a space that can hold up to two cars with a 9 ft high ceiling. The RV garage door is 12 ft high and opens into a space with a 16 ft high ceiling and 40 ft of length. The second-floor plan would be great for a bright office, workout room, or additional storage.
Traditional Garage and Living Plan
Combine extra living space with your garage plan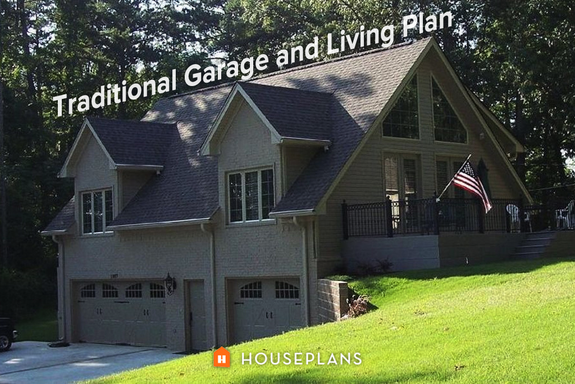 Plan 81-13913
If your plans for a garage design include living space, then this 1,220 sq ft garage/house plan (plan 81-13913, above) offers some attractive options. On the ground level, there is one double garage and an additional single garage, as well as a handy half bathroom. The main level features a living room, dining area, and a U-shaped kitchen - much like these garage apartment plans from Builder Online. The bedroom is accessed through a sitting area, where you'll also find a full bathroom and a large closet. This plan can be customized to include a deck.
Country Style Garage Plan and Two-Bedroom Living Space
Enjoy single-floor living above your garage space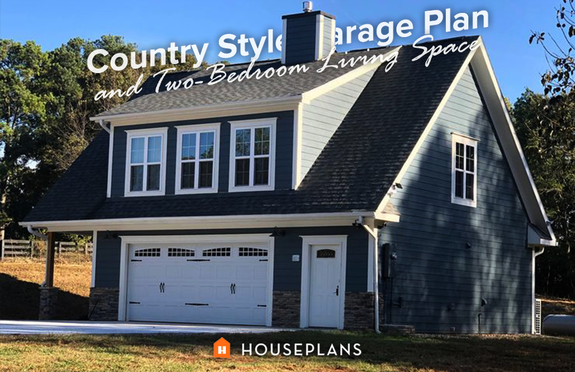 Plan 23-623
This attractive 1,096 sq ft garage plan (plan 23-623, above) includes a roomy second-floor living space. The garage has room for two cars and additional storage for equipment or tools. There is an additional covered porch space perfect for firewood or outdoor chairs. The second-floor living space includes a living and dining area that flows directly into the kitchen space. Both bedrooms come with ample closet space, and one has private access to one of the two bathrooms that come with this plan.
Craftsman Style Garage and Work Area
Get lots of storage and a built-in workbench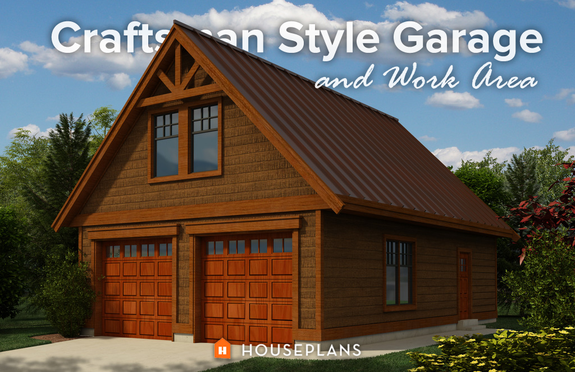 Plan 118-124
Garage plan 118-124 (pictured above) would work well for anyone looking for a place to work apart from the main house. The garage has ample room for two cars and a workspace that can be accommodated to your needs. If you choose to partition off the garage from the workshop, this space can turn into a place to work for hours, as there is also a full bathroom. The second-floor loft has a vaulted ceiling and would work well for additional storage or even a workout area.
Craftsman Home with Ultra-Spacious Garage
Comfortable living space comes with this modern design
Plan 70-1486
Enjoy one-story living with this plan (plan 70-1486, pictured above), which includes easy access to your garages as well. The two garages have enough space to accommodate up to four cars. Enter the house from the garage, and you'll find one bedroom and a bathroom. As you continue into the house there is a great room, dining room, kitchen, additional bathroom, and den. The master bedroom is located to the left of the floor plan and includes a bathroom and walk-in closet.
Contemporary Garage Plan
Enjoy a modern touch with this layout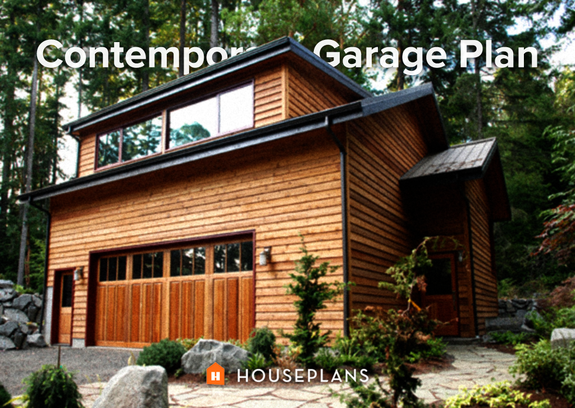 Plan 498-3
There's a lot of rustic appeal to this garage space (plan 498-3, above). On the lower level there is room for two cars as well as an additional place for storage. The second floor boasts a spacious studio space that includes skylights, a kitchenette, and a bathroom. The two rooms can be used as bedrooms or offices, depending on how you envision the use of this plan.
Traditional Style Garage and Living Quarters
An airy living area with a roomy garage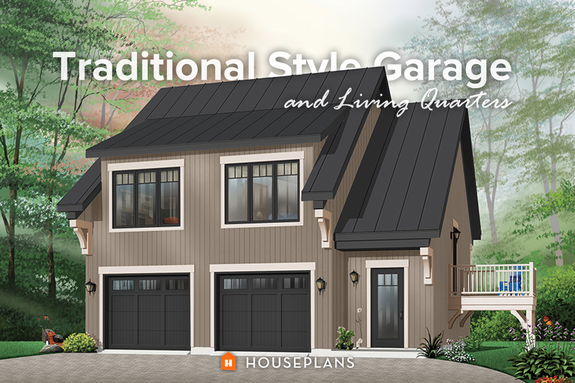 Plan 23-444
Whether you need this garage space for cars or to set up a work area, there is plenty of space in this two-car garage layout (plan 23-444, above) that includes a useful half bathroom. The second-floor living area comes with space for two bedrooms that share access to a center bathroom. The living room, dining area, and kitchen offer a nice view out over the garage thanks to tall windows. This plan also comes with a side porch for easy outdoor living.
Traditional Style Garage Design
Clean lines add to the appeal of this garage plan
Plan 47-1081
If you find yourself needing extra space for family, this garage plan (plan 47-1081, above) is a multifunctional option. The bottom floor provides room for a two car garage, while stairs give access to the second-floor living space. There is a living area, kitchen, dining area, and even room for a washer/dryer and a dishwasher. The bathroom is located on the other side of the apartment, close to the bedroom.
Cute Country Style Garage and Living Area
This classic plan is sure to give you the space you need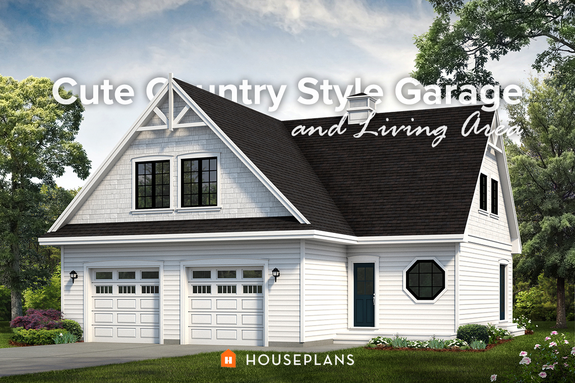 Plan 47-1090
Enjoy easy access to your living space adjacent to the two-car garage that can include up to two workbenches. In the main part of the home, you'll find a dining area, living room, and kitchen. There are two bedrooms, one with a private full bathroom. Access to the rear patio is provided through the living/dining area. Extra storage space is yours with the attic loft in this design (plan 47-1090, above).
Country Style Three-Story House and Garage Plan
Enjoy the space offered with this farm-inspired plan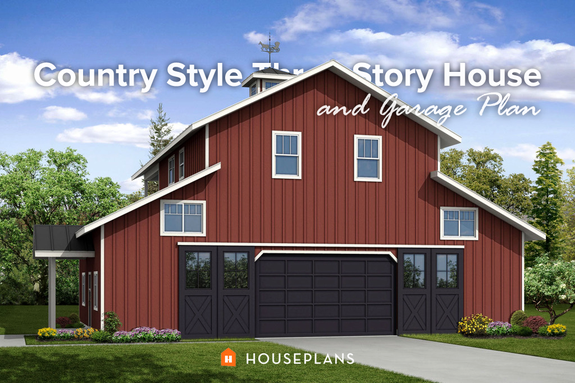 Plan 124-1052
This plan (plan 124-1052, above) comes with plenty of space to meet your storage and living needs. The double garage door offers access to an area that can store up to three vehicles. The left side entrance gives access to two bedrooms and a bathroom, while the other side of the ground floor contains space for two offices. As you move to the second floor, there is a vaulted game room and two storage lofts. The third story contains a one bedroom and one bathroom apartment, with enough space for a living area and a full kitchen. Off of the living area there is access to a covered deck.
Contemporary Style Two-Story Garage/Living Plan
A modern plan with two garages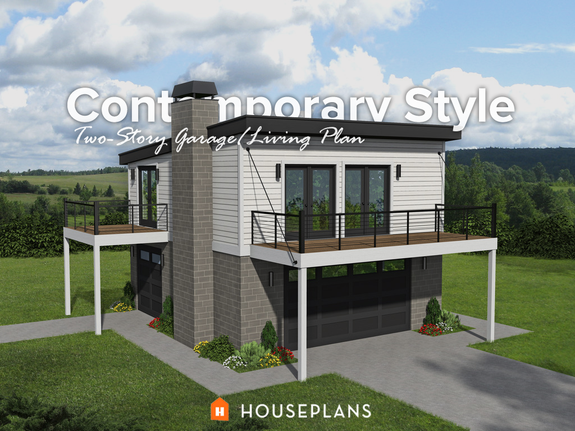 Plan 932-46
This appealing garage and living space (plan 932-46, above) comes with two separate garage doors located below a second-story balcony and deck. The main living area is accessed via a side entrance on the ground floor that leads to a stairway. Here you'll find a kitchen, living area, and views of the large balcony. The bedroom has a private balcony/deck, a walk-in closet, and a private entrance to the bathroom.
Ranch Style Studio and Garage
An easy way to combine garage and living space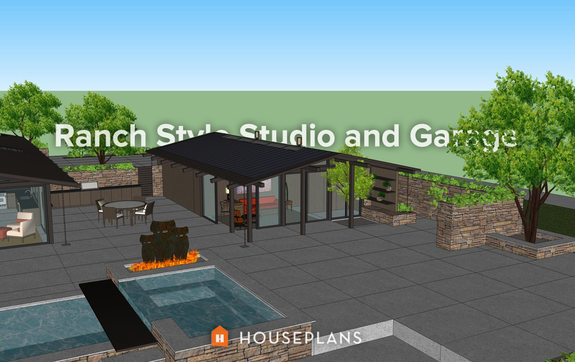 Plan 544-4
Having an extra space for a bedroom or an office detached from the main house is an easy way to ensure privacy. The two-car garage (plan 544-4, above) fits nicely with the open living space framed by windows. This garage/living plan also includes a full bathroom in its 920 sq ft of space.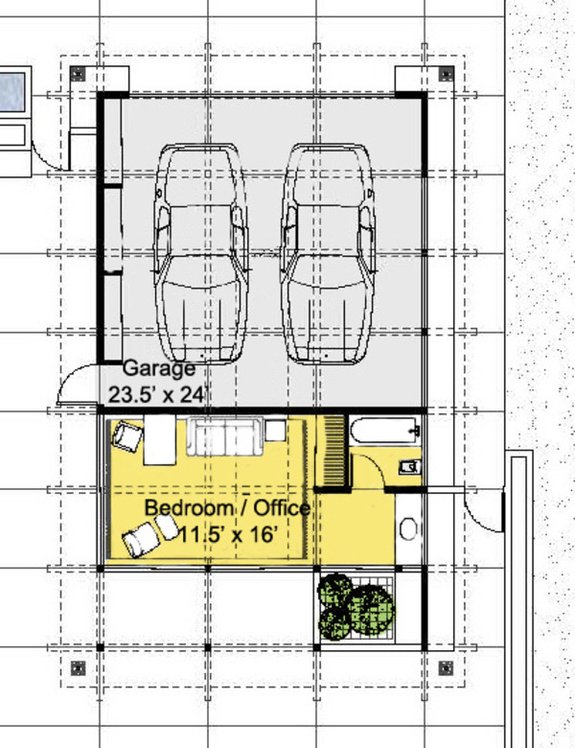 Traditional Style Two-Story Garage and Living Plan
A second-story covered porch is a welcome addition to this layout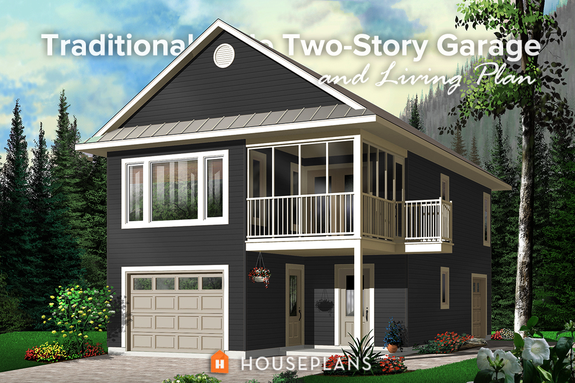 Plan 23-442
There's more space than you might think in this two-story building (plan 23-442, above). The bottom floor houses one garage that is 42 ft in length, should you need to keep a boat or even a small RV. A separate garage entrance leads to a space for other small vehicles or lawn equipment, with a half bathroom here for convenience. On the second floor there are two bedrooms, a full bathroom, a kitchen, and space for a living and dining area. Access to the covered porch and the grill/sun deck is located near the washer/dryer location.
Two Bedroom Traditional House Plan with Large Garage Space
This is a spacious three-car garage plan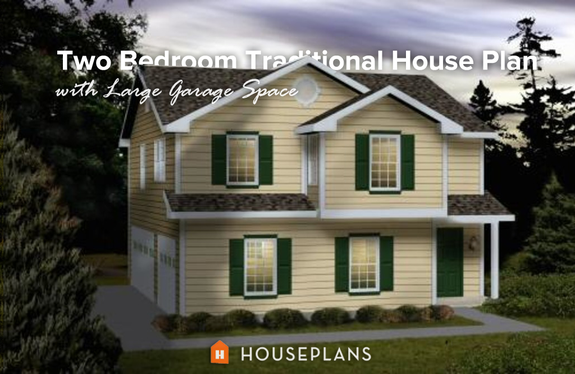 Plan 22-404
This homey garage and house plan (plan 22-404, above) offers two bedrooms and comfortable living. The first floor contains a garage with a double door as well as a single-door entrance and will hold up to three cars. There is an area for additional storage in the back. Up the stairway you'll find two bedrooms, a bathroom, a kitchen with a breakfast nook, and a family room. The kitchen and family room are divided by an area for a washer/dryer and a pantry.
One Bedroom Apartment Rests Above Garage Space
A charming garage/living space that includes a deck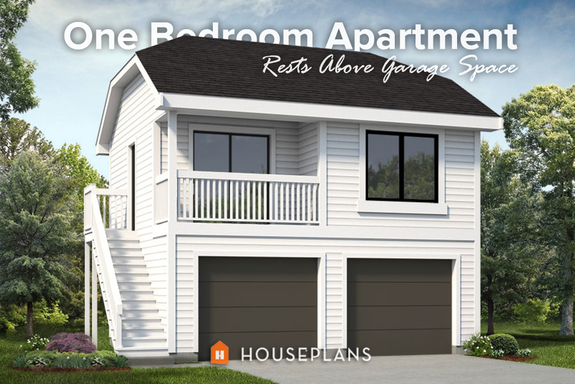 Plan 47-1075
This space (plan 47-1075, above) would work nicely as a guest, in-law, or rental apartment. The first floor contains two garage doors and will fit two vehicles. Using the outside stairs to access the apartment, you'll find an open living area--with access to the deck-- and dining area that flows into the kitchen. Beyond the kitchen is a full bathroom and a bedroom with a roomy closet (check out this cool garage apartment remodel from Apartment Therapy).
Cottage Style Garage and Living Plan
A welcoming two-car garage with a patio and a deck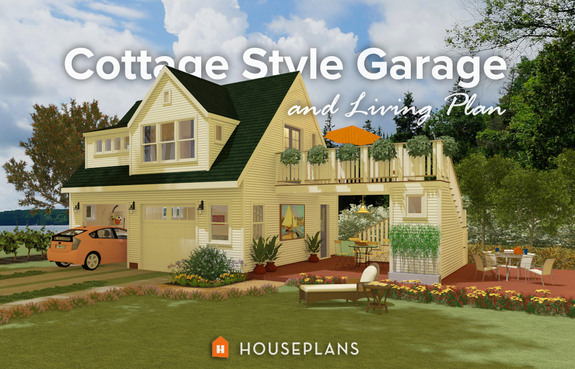 Plan 917-10
This appealing garage plan and one bedroom apartment (plan 917-10, above) offers lots of room for storage. At the back of the two-car garage is an elevated space perfect for a workspace or additional storage. Moving through the patio you'll reach the staircase--with storage underneath it-- to the second floor deck and entrance. Inside you'll find a family room, kitchenette, bedroom, bathroom, and additional half-bathroom.
Country Style Garage and Rec Room Design
An easy way to get additional storage options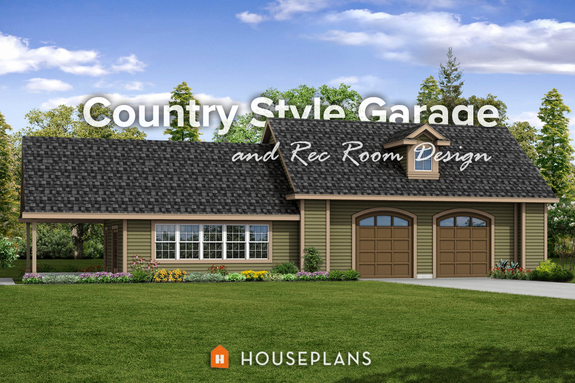 Plan 124-1068
This garage design (plan 124-1068, above) is the perfect way to fit up to four cars, or a spacious way to house two or three. Above the garage is attic space that is accessible by a stairway. Off to the left of the garage is a large recreation room that includes space for a full bathroom. A vaulted covered patio provides a great spot to add some outdoor furniture or a grill.
Depending on your needs, these garage plans can offer extra space for vehicles and tools, or provide additional areas for living and working. If you're curious to learn more about these designs, contact a Houseplans representative for more information at 1-800-913-2350.