By Courtney Pittman
Do you love a good deal? Then maybe you should consider building a duplex home. Duplex floor plans offer many perks and benefits, like helping you pay off your mortgage (yes please!). For example, if you rent out one side, renters can help pay off your home. Alternatively, if you prefer short-term renters, you could rent the other unit out through a vacation rental site, such as Airbnb. These options can help ease the cost of home ownership.
Click here to browse our collection of duplex floor plans.
If being a landlord isn't really your thing – we've got you covered. Do you host friends and family often? You could use the other side as a dreamy guesthouse. The other half could also be used for housing extended family or elderly parents – keeping them close, but not too close.
Lets explore these cool duplex floor plans and all their benefits.
Parents and children will enjoy living under the same roof in this modern home design (plan25-4609). Ideal for a family with multiple generations living together, this plan includes a separate, but attached, unit that's perfect for an elderly parent, a young adult just starting out, or a college student that's home for the summer.
Divided into two distinct areas, the first floor provides a total living area of 1,799 square feet, with nine-foot high ceilings. Both units share a common entrance hall, as well as an entrance to the garage. The parents' unit features a complete bathroom with a laundry area, a bedroom with a walk-in closet in the back, a living room, a dining room, a kitchen (with an island that includes a sink), and a solarium.
The main unit includes a powder room, a living room and a dining room divided by an open gas fireplace, and an L-shaped island kitchen with a large pantry. An upper floor provides a 914 square-foot living area that features a family bathroom and three bedrooms.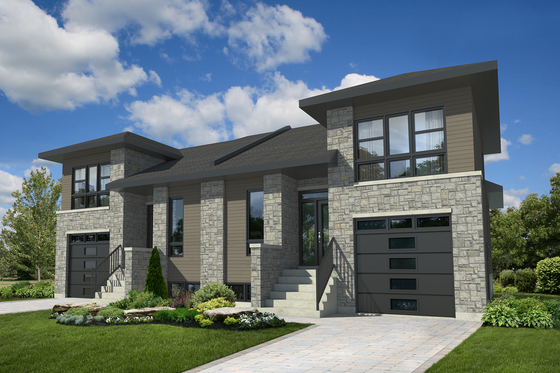 This duplex floor plan (plan25-4611), features a gorgeous stone and wood facade exterior. Inside, the living area and room layout is identical in both units. Both boasting an easy flow between the main living areas, these units feel spacious and open. The basement has 700 square feet of living space and includes two bedrooms, a bathroom (with a bathtub and a shower), as well as a den.
It also features a laundry room, a powder room, a dining room, a living room, and an L-shaped kitchen with an island that can sit up to three people. Located above the garage, the upper floor has 302 square feet of living space and includes one bedroom with a large walk-in closet, and a bathroom with a shower.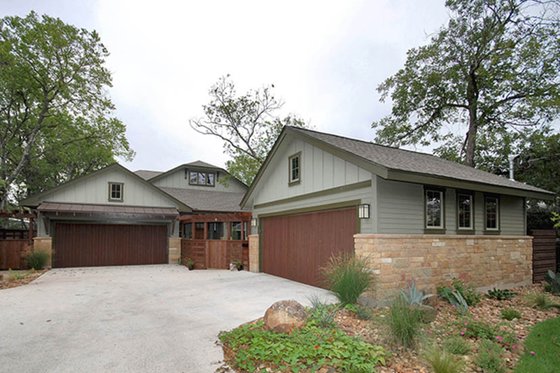 Although it looks more like a single family home, plan 935-3 is a Craftsman design that offers two distinctive and unique floor plans. Both units feature easygoing flows through out the main living spaces, main level masters, and covered rear porches on the first level. Upstairs, two bedrooms and a bathroom reside in each unit.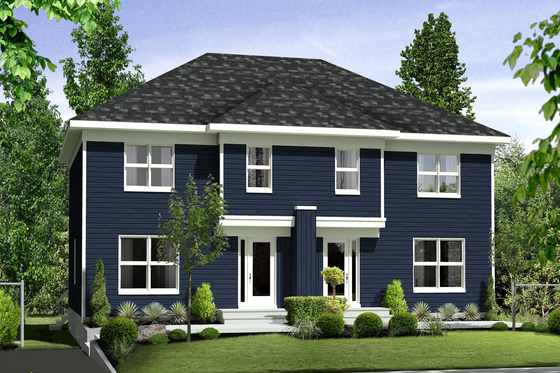 These semi-detached two-story home designs (plan25-4520) each provide 1,333 square feet of total living space. The surface area is identical in both units (660 square feet for the main floor and 673 square feet for the upper floor). Boasting an organic flow, the main floor of each house includes an open entrance hall with a closet, a powder room, a living room, and an open dining room and kitchen.
The upper floor of the left floor plan offers a bathroom, two bedrooms and a small laundry room, while the right floor plan includes a bathroom, three bedrooms, and a laundry area.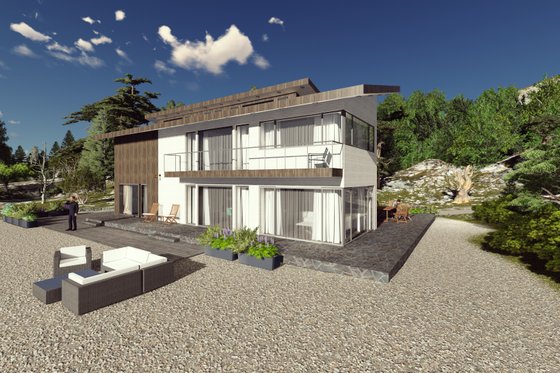 You should definitely consider this modern two-story duplex floor plan if you have grown kids who haven't yet found their own place to live, active in-laws, or if you want to have some additional rental income (short or long term tenants).
One unit offers two bedrooms, while the other offers three. This allows homeowners to choose which unit best fits their lifestyle and family needs. The three bedroom unit includes an open living-dining area and kitchen plus a flexible garden room, while the two bedroom unit has a more conventional main level layout. Both units feature all the bedrooms on the second level.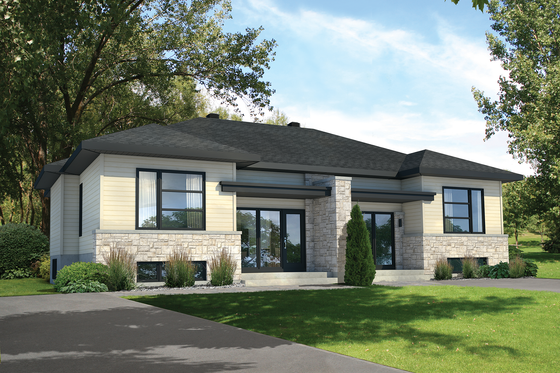 These two elegant semi-detached bungalows (plan25-4352) both provide a 1,934 square foot living area, but their interior design is slightly different.
The house on the left features a larger master bedroom with direct access to the family bathroom, and the island kitchen faces the inside of the house, while the house on the right has an island kitchen that faces two horizontal windows overlooking the yard. Both home designs have a split-level entrance hall with large panoramic windows, a living room, a dining room, a bathroom (with a large shower), and a laundry closet.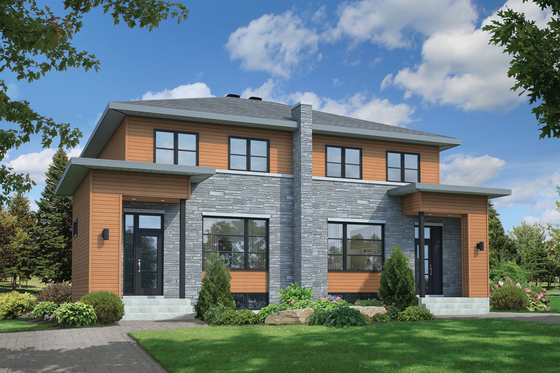 These urban semi-detached two-story house designs (plan25-4516) provide a total of 2,832 square feet of living space. The room layouts and living areas are identical in the two units, which is 736 square feet on the ground floor, and 680 square feet on the second floor.
In each unit, the ground floor features a sunken entrance, a powder room, a living room with a gas fireplace, a dining room, and a kitchen with a long eating bar that can sit up to three people. The second floor features: a bathroom with a large shower and separate bathtub, as well as three bedrooms (including a master bedroom with a large walk-in closet).
Click here to browse our collection of duplex floor plans.
Explore our collection multifamily house plans.