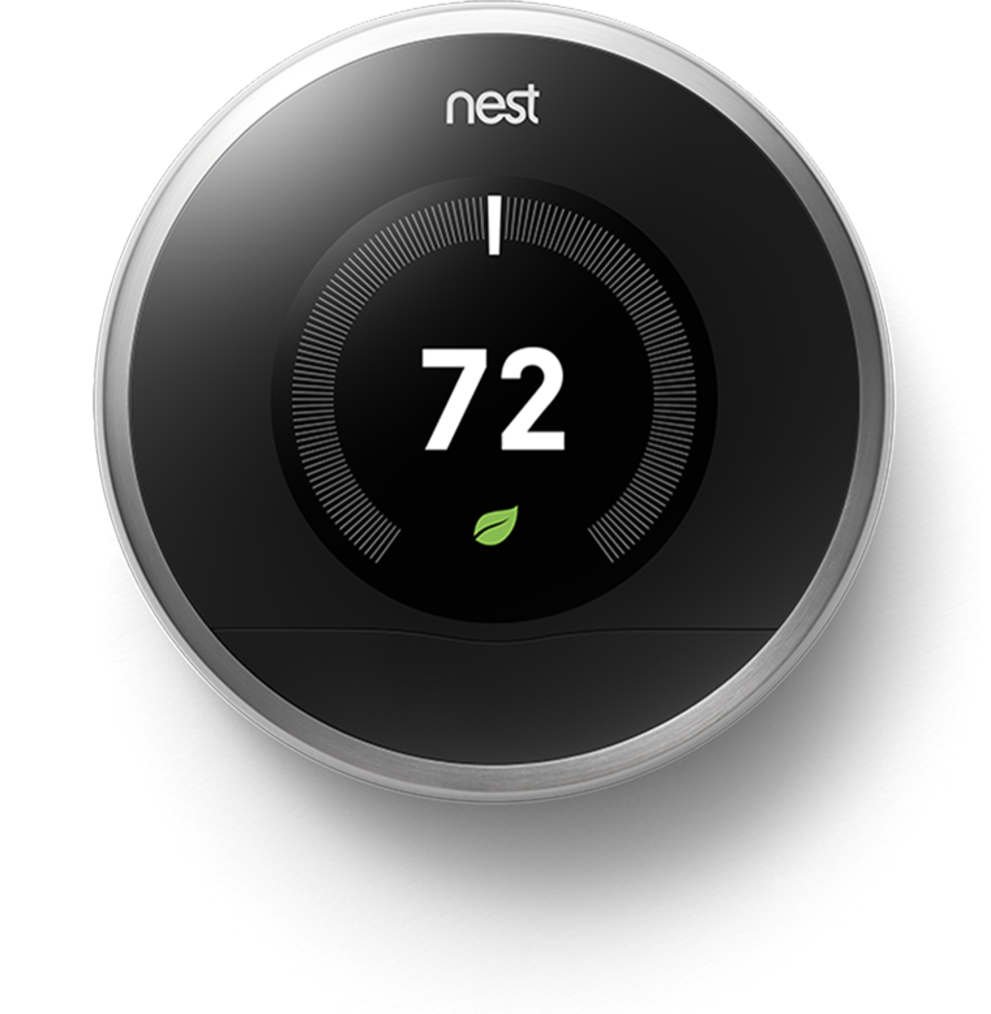 The new Nest Learning Thermostat is one of six app-driven produc
Selling new homes has always been about tempting potential buyers with new lifestyle options. That's true whether you are building patio homes for empty nesters, chic urban lofts for Gen Xers, or five-bedroom suburban mansions for growing families.

Now it's possible to hold out the promise of lifestyle changes at a minimal expense, thanks to recent innovations from home products companies. In particular, all sorts of web-enabled products have debuted in recent years that change the way people operate and maintain their home. But even traditional building products such as toilets and paint are getting a make-over.

The darling of this movement is the sleek Nest Learning Thermostat, shown at the top of this post, which was the chief attraction of an exhibit that I recently took to the Pittsburgh Home and Garden Show. A magnificent piece of industrial design, the thermostat develops a custom heating and cooling pattern based on temperature adjustments within its first two weeks of operation. It doesn't require arduous programming. It's also accessible from a smart phone, so you can access it if you forget to turn down the temperature after you leave for vacation. Thousands of people stopped by the exhibit, and virtually every owner of a Nest thermostat commented on how much they liked it. Many others left intending to buy one.

Attendees were more reserved about the electronic deadbolt on exhibit, though many were fascinated. The

Kevo lockset knows that you are at the door, using Bluetooth technology to communicate with your smart phone. Then all you have to do is touch the glowing deadbolt to open it.

The benefit is that if you are at work and someone needs to service the dishwasher, you can send that person an e-key to get inside the house. The e-key only works for a specified time. If your kid doesn't have a smart phone, he or she can use a key fob instead.

The exhibit included a Rachio Iro sprinkler controller that's smart enough not to waste water.

It can do this because it communicates through wi-fi with the National Weather Service. The sprinkler controller sent me an email the other day saying it planned to skip a scheduled watering because it was going to rain that night.

Whirlpool shipped in prototype smart grid appliances for the show. What's cool about the washer and dryer is that they can access utility pricing over the web. They may suggest that you wait a few hours before you dry your clothes until rates are lower.

The biggest attention-getter in the exhibit, though, was the ECOS air-cleaning paints. No one seemed to
know that paint could clean the air. A molecular filter in the paint captures pollutants but lets smaller oxygen and nitrogen molecules pass. The paint is available through mail order from the ECOS factory in South Carolina.

People enjoyed running their hand over the top of the Kohler hands-free toilet and listening to it flush,

especially after they learned how the fixture could improve home hygiene in the home. Coupling the toilet with touchless faucets and cabinets that open with an elbow push would result in a hands-free home bathroom, similar to the ones you find in airports.

It was abundantly clear during the show that younger buyers enjoy high-tech products the most and seemed the most willing to experiment. But nearly everyone who stopped was interested in added convenience, energy savings, and a healthy home environment.

Boyce Thompson is the former Editorial Director of
Builder
Magazine, and the author of
The New New Home
.