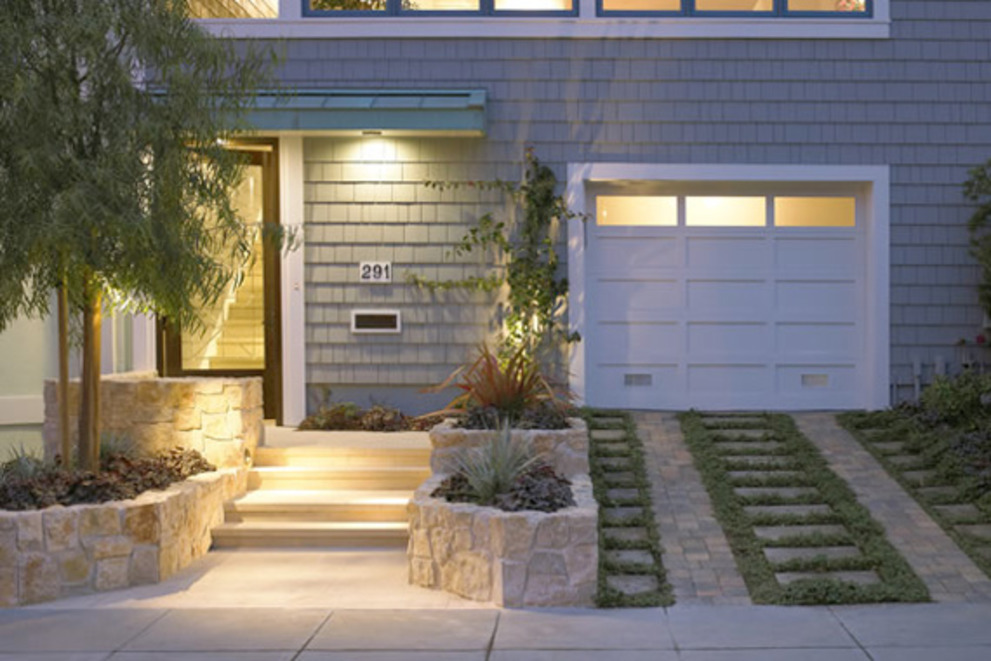 Driveway and entry path form a unified design with plantings and
There's no steering around it — driveways play a big role in your home's appearance. Small wonder: They're sizeable features. A typical 20-by-40-ft. suburban driveway occupies about 800 sq. ft. of front yard — almost half a tennis court. Yet we often regard these hardworking necessities simply as slabs of concrete. With a little imagination, however, you can cook up a great-looking driveway that'll boost curb appeal and help preserve the value of your property. Here are some ideas:
Above: A mix of hardy ground covers and paving bricks creates a tidy driveway that melts into the surrounding landscape. Solid brickwork forms tracks outlined with tough-as-nails ground covers that can take an occasional misplaced tire. Rugged ground covers include blue star creeper (Isotoma fluviatilis) and Corsican mint (Mentha requienii). 
Credit: Gast Architects/Arterrra LLP, Landscape Architects/John Sutton Photography


Driveway in Motion
A few simple design elements, such as these concentric circles, add a nice helping of curb appeal. The construction of a brick or concrete paver driveway is similar to that of a 
patio
, costing about $15 per sq. ft., including installation. Credit: 
Scott Miller/Flickr
A Truly Green Driveway


Durable porous pavers are concrete or plastic blocks designed with holes that let you plant vegetation inside the blocks, creating a "living" driveway. Porous pavers are an environmentally friendly choice: They let rain pass through to the ground underneath, reducing runoff that makes your yard soggy and carries pollutants to waterways. Credit: Green Innovations


Fun with Faux


Why use low-cost asphalt when you can have brick? Hey, wait a minute — this IS asphalt! Stamped and colored to mimic good old red brick, this asphalt driveway costs about half what real brick will cost to install.
Credit: Design Paving


Lighten Up Your Driveway


Low-voltage paver lights feature tough resin lenses that withstand traffic. The lights are set flush with the surrounding pavers. A 14-light kit featuring 4-by-8-inch pavers, a transformer, cable, and connectors costs $200 to $300. It's perfect for DIY jobs, such as decorative driveway borders. Credit: Kerr Lighting by SEK/Surebond
To read more
click here.