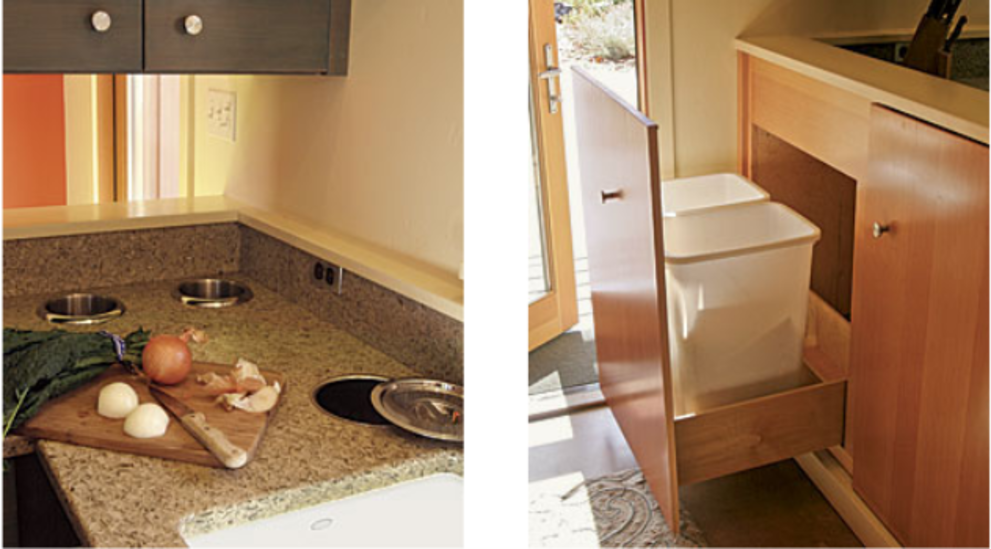 Roll-out bins are near exterior door to make taking out the garb
Designing a small house for a large, busy family is a challenge, but it can be a fun one. Even reconsidering the mundane task of taking out the garbage can lead to creative design solutions.

In this house, we designed an entry hall that connects the front and back doors, with storage space for shoes, coats, and backpacks. Because the hall shares a wall with the kitchen, we took advantage of the notoriously dead space in the kitchen's corner cabinet to create a convenient waste station. Two stainless-steel sleeves in the countertop provide access to garbage and recycling bins that are stored in the cabinet below. A third, lidded stainless-steel container catches kitchen waste headed for the compost bin outside.

The bins below the countertop are accessed from the hall in a pullout drawer. We were careful to position the unit next to the back door for quick, convenient outdoor access.

Easy disposal
Standard stainless-steel restaurant supply sleeves are removable and make the openings easy to clean. The lidded compost container, set behind a drawer next to the sink, is also removable and completes the waste trio.

Roll out the waste
Garbage and recycling bins occupy the corner cabinet space typically reserved for a lazy susan. Access to the cabinet from the hall, not the kitchen, makes taking out the trash a breeze.

Anni Tilt is a partner at Akin Tilt Architects, Berkeley.