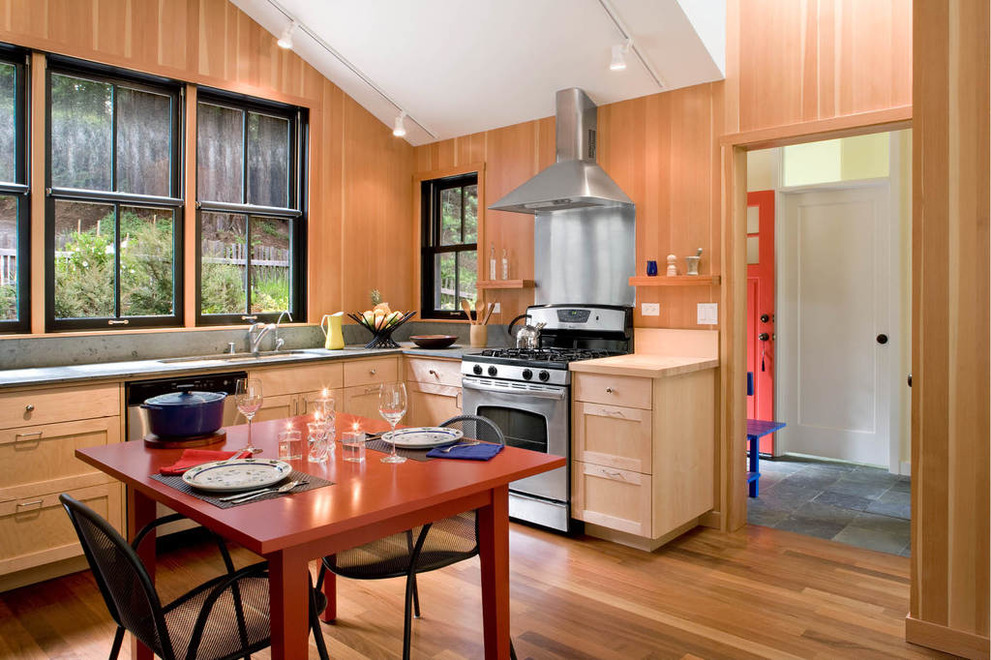 Standard drop-in ranges can work well for most kitchens, as in t
Recently I asked my friend Jerry Di Vecchio for advice on cooking appliances. For many years Jerry was the Food Editor for Sunset magazine, which has elaborate test kitchens, and she has authored numerous Sunset books on cooking. One of her main points is not to be seduced by expensive bells an whistles, and to focus on practicalities, like how a range or oven actually cooks the food and cleans up afterward. Here are her tips.

"I feel very strongly that some of the bigger fancier kitchen appliances are not as satisfactory as the old, cheaper standards — outside of glam, and even that is catching up.

1. Back to basics. The drop-in standard GE range has the best size oven for even baking. I am completely enthused by the ones that have turned the utility drawer into either a warmer or another oven. This shallow oven is not good for real baking, but just fine for heating up casseroles, etc, stuff in a pan. And I must say, these drop-ins are totally stylish, especially when controls are not on the old fashioned backdrop behind burners.
  
2. Consider door size. The bigger restaurant style stoves with the wide doors on ovens simply loose heat too fast when doors are opened and close to maintain good temperature balance, and i have found they do not brown foods very evenly. The complicated racks/holders on oven walls are such grub collectors, and I have not found them all that easy to remove for cleaning and getting back in place. I also find that the long rectangular oven, even when the door isn't opened a lot, does not circulate heat as evenly as a the squarish standard, and I'm sure it's because of shape.

3. Shape is important. These big oven stoves usually have a smaller, not wide oven. We discovered a standard baking sheet is too big to fit in such an oven; different pans are a nuisance. Also, small ovens do not bake evenly. I couldn't do a cake in them for the life of me. I did do cookies, but had to watch and turn pans for even browning a lot. At the old Sunset test kitchen we had a double wall oven that was narrower than standard, and they baked badly as well. Again, it's how the heat can circulate. I did have a small convection oven in France (two, actually, as I kind of used one up, I think) and could run it on very high heat and get fab results. But it smoked a lot— a window was handy as a vent. The convection ovens here didn't get that hot and in all our testing I was not impressed by the difference.

4. Is a griddle necessary? We had a huge griddle in the range at my daughter's house. Horrible to keep clean if used. Big waste of unused space most of the time. The little Jenn Air stove that I have has a smaller griddle drop-in over the fifth center burner, for pancakes, and has plenty of space.

5. Pay attention to the grids. Most grid tops for burners are not well designed to keep smaller pans balanced on them -- I report, as my omelet pan has to be set on a burner just the right way or it tips. Grids may look flat, but gaps cause problems.

6. Think about cleaning surfaces. A solid seamless base in which burners fit stove top is really essential if you want easy cleaning. Every seam invites grub.

7. Ask about the amount of power required if ovens are self-cleaning. I installed a new GE electric convection oven at my rental and when it was turned to self-clean it shorted out."