The tiny house trend has attracted attention in recent years due to the benefits it can offer those who are looking to live more simply. When your home is designed to be smaller, it can only hold so many things, forcing you to decide what you can and cannot live without. The philosophy of downsizing appeals to many people who are interested in saving money and living a more environmentally friendly lifestyle.
Houseplans.com many interesting options when it comes to tiny houses and micro cottages, so if this trend is something you're interested in pursuing, contact one of our representatives at 1-800-913-2350. We've put together this list of some of our favorite plans, but be sure to browse through our entire collection--all of which can be customized according to your needs.
Cottage Style Tiny House
Wide open porches create more space to enjoy your view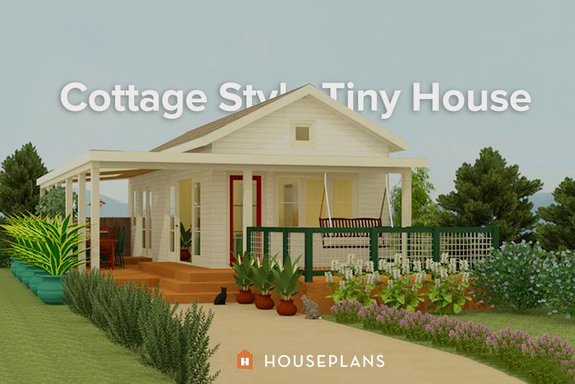 Plan 917-4
This tiny house (plan 917-4, above) seems larger than its 399 sq ft, which is due to the addition of side and front covered porches (explore porch decorating ideas from Better Homes and Gardens). As you walk in through the front door you find yourself in the living/dining/kitchen area that is just the right amount of space to cook, enjoy meals, and entertain. The bedroom is large enough for a queen size bed, and includes exposed rafters, built in storage, and easy access to the side porch.
There is one bathroom and a walk-in closet, and room for a stackable washer/dryer. When the outdoor porches are included, the total footprint of this tiny house is 844 sq ft, and offers a nice amount of space, both inside and out.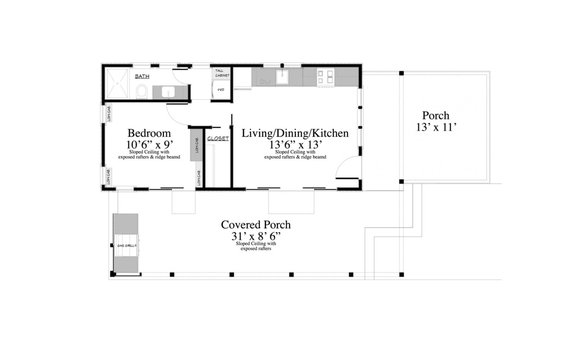 Stylish and Sleek Home Design
This modern house plan is all about smart details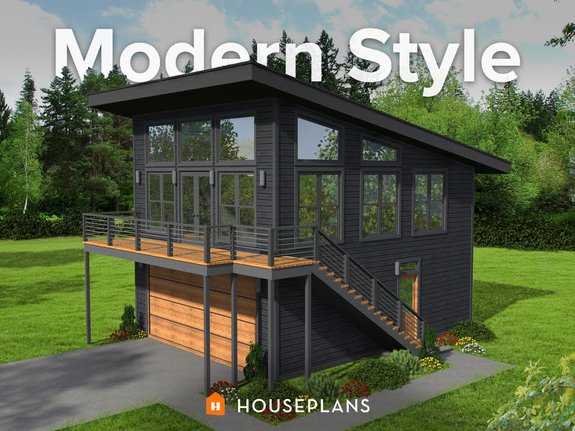 Plan 932-42
Modern and cool, this chic house plan (plan 932-42, above) stands out. Check out the vaulted great room, which is open to the vaulted kitchen and allows the home to feel bright and airy. A balcony on the second level extends the living space and provides easy indoor-outdoor living.
Need more space? An art loft could be used as a hobby space, home office, yoga room, or even a guest room. Plenty of windows flood the interior of this plan with natural light.
A Modern Tiny House with Curb Appeal
This micro cottage plan will work well on any lot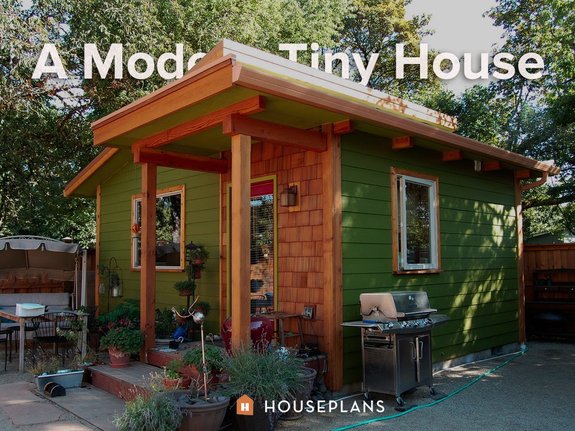 Plan 890-2
A modern take on a micro cottage, plan 890-2 (above) consists of 320 sq ft of space that would be perfect for those who are looking to downsize and live more simply. The outside of the house instantly appeals to the eye, with exposed wood details and an asymmetrical roof. The inside consists of a generous main space with a combined living/sleeping area.
In addition, there is a full bathroom and an L-shaped kitchenette. If your needs require a tiny house plan for either a studio or a private space for extended family, this cottage would be well suited for both and can be built on your existing lot.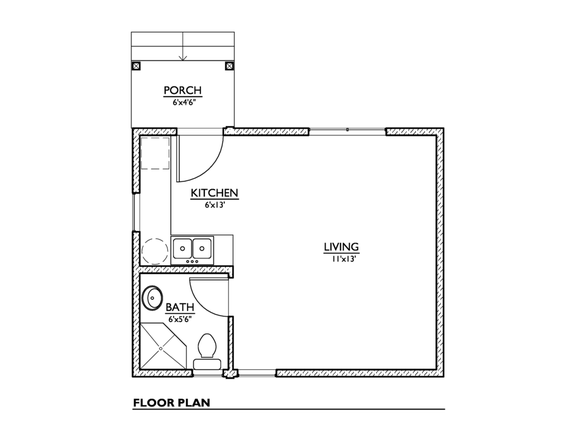 Farmhouse Plan with a Whimsical Character
An fun house plan that's still practical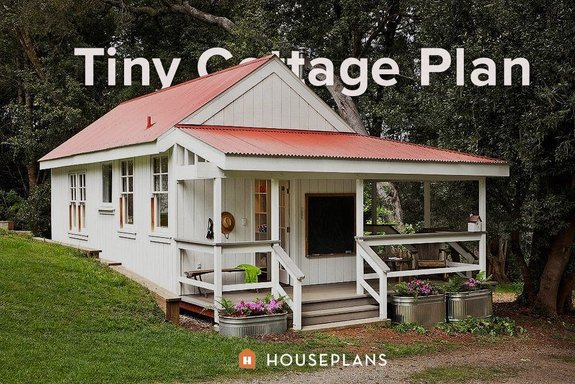 Plan 889-3
This creative house plan (plan 889-3, above) is an out of the ordinary way to live small. The 388 sq ft home with an inviting porch combines the practicality of a bath house/kitchen with one bedroom, to make this an ideal in-law or granny suite. Enter through the front porch and you'll find a kitchen, storage cabinets, and space for two water closets and two showers complete with saloon doors. You can also choose to have one water closet, one shower, and a bathtub if this house will function as a suite instead. The bedroom is accessed off of the back of the porch and includes space for a closet.
Create Your Own Tiny Cabin
This tiny house plan can help you live more simply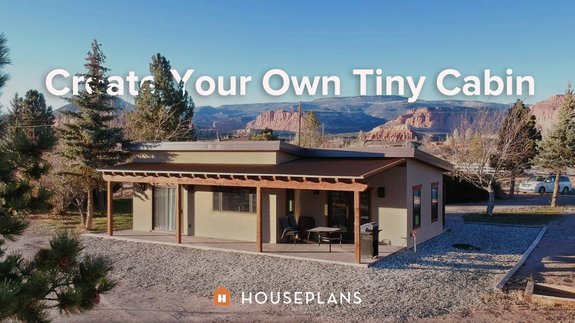 Plan 924-9
If a cabin style plan appeals to your tastes, then consider this tiny cabin (plan 924-9, above) that offers 780 sq ft of space for you to enjoy. As you enter the house you'll find yourself in the living area with enough room for a table and chairs to dine, as well as a small couch and comfortable chairs. Opening to the main living area, the kitchen feels spacious and relaxed (check out these open floor plan ideas from Freshome). This tiny house actually has two bedrooms, both of which are away from the main living area to offer additional privacy. There is one full bathroom in this plan and space for a washer/dryer.
The back covered porch of this cabin style home is a nice area to set up outdoor chairs and tables, which make entertaining and enjoying the outside very easy.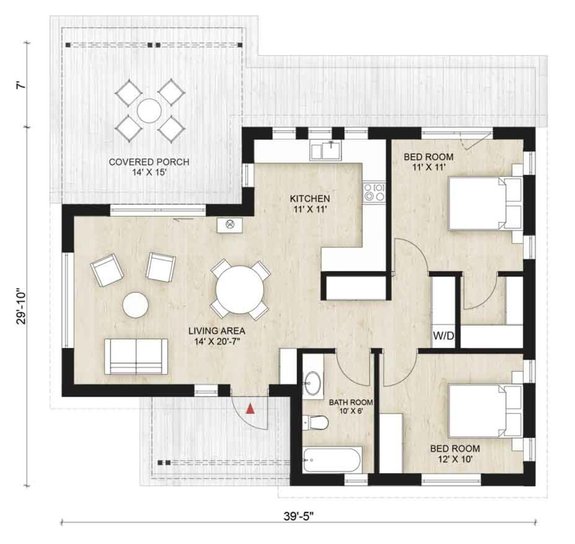 Live Small in Modern Style
Modern tiny houses are an interesting option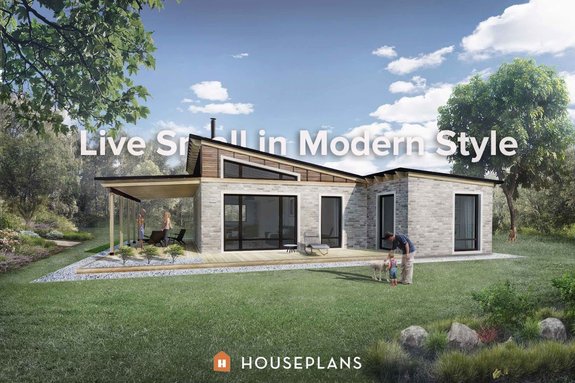 Plan 924-3
Although plan 924-3 (pictured above) was designed to be used as a second home or vacation home, it could easily be your downsized primary residence. There is 850 sq ft to work with, and if you're looking to live simple, this is a neat option. Bright and airy, the open floor plan creates a continuous flow between the main living areas. The main bedroom sports a walk-in closet and easy access to the bathroom.
The second bedroom could be used as guest quarters, a den, or hobby room. Both bedrooms have access to the porch. Plenty of windows provide natural light in the living and dining area. Step outside to the covered porch for easy indoor/outdoor living.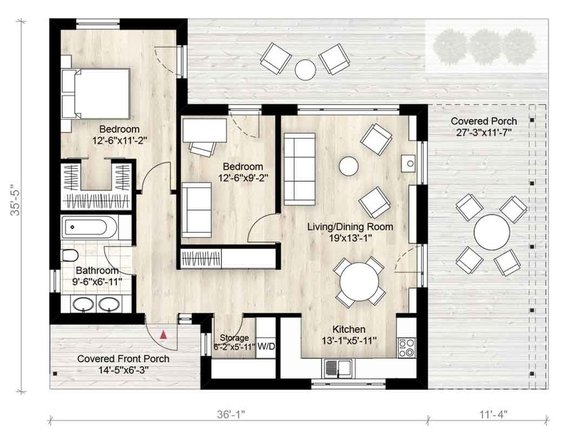 Cute Cottage Style Tiny House
Cut costs with this smaller design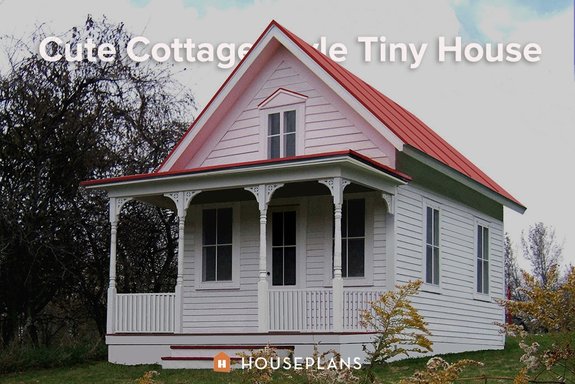 Plan 915-4
Cottage style tiny living is very comfortable with plan 915-4 (above). With 356 sq ft, you'll find yourself appreciating how much you can save by downsizing. This cottage includes a porch that is as useful as it is charming, and is just waiting for your outdoor furniture. As you walk in, you'll find the great room, which is designed to include space for a dining area, as well as a comfortable couch or chairs.
The kitchen includes a dishwasher, range, as well as an access ladder to the loft, while the bedroom is located in the rear of the home for additional privacy. This house plan can accommodate either a full loft over the great room, kitchen, and bathroom, or a half loft that would include a cathedral ceiling over the great room. The loft at its full height is 7 ft, and offers 50 sq ft of space that is very versatile.
A Cabin Style Tiny House
This compact house is full of appealing options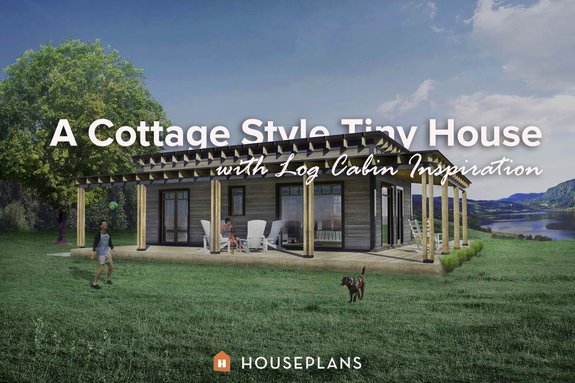 Plan 924-7
Looking for a tiny house that reminds you of a weekend getaway cabin? Then look no further than plan 924-7 (above), which has 500 sq ft of space that could either function as your main residence or second vacation property - much like these getaway cabins from Country Living. This house boasts of two covered porches, which provide ample space for outdoor relaxing and dining. As you enter, you'll find the kitchen space brightened by a set of three windows, which let in abundant natural light. There is also a spacious living area that includes enough space for a set of cozy chairs or couch, as well as a small dining table. You'll find easy indoor/outdoor access to the covered porch with a sliding door.
The bedroom is located on the opposite side of the living space, and will offer you some additional privacy as well as access to the covered porch. There is one full bathroom and room for a stackable washer/dryer.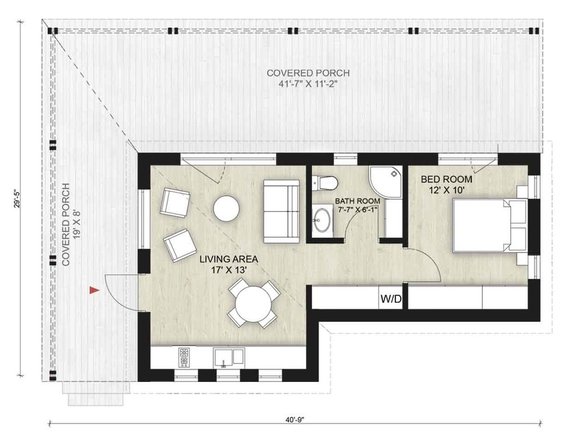 A Tiny House Plan that Includes a Garage
The unique design offers a patio, balcony, deck, and lots of storage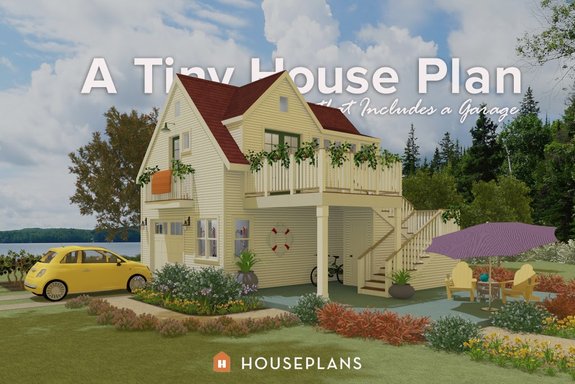 Plan 917-8
When deciding to downsize, you don't want to sacrifice style, which is why this cottage plan (plan 917-8, above) would be a great way to live smaller. Its unique design puts the living space above a generous one-car garage and work area, as well as an outdoor patio. At the top of the stairs is a deck that offers enough space for an outdoor table or seating area.
As you enter the house you'll see an open family room that flows easily into the kitchen equipped with a dining bench that offers additional storage. The great room has enough space for a queen size sofa bed and provides access to a Juliet balcony that will allow for plenty of natural light. There is a full bathroom and room for a daybed in this 400 sq ft house design too.
Every Inch of Space is Utilized in this Tiny Contemporary
A small house plan that is anything but cookie-cutter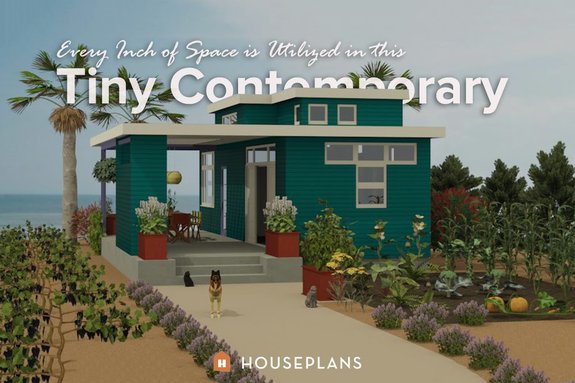 Plan 917-5
If you want a tiny house plan that truly uses all its space, then consider this contemporary design (plan 917-5, above). With 584 sq ft of space, it's hard to believe that there is one full story and a partial story for you to enjoy. On the first level there is a welcoming covered patio with an outdoor kitchen. As you move inside, you'll find a living and kitchen area that includes built-in bookcases, sliding doors to the patio, and access to the second floor loft. Proceeding down the hallway, you'll pass the full bathroom before entering what you could use as a den or guest room.
The second floor loft space opens to the living room and can fit a king size bed, and includes built in storage, closets, and an additional bathroom.
Tiny house plans offer a lot for those who want to reduce what they own, live greener, and spend less. There are many more plans available on the Houseplans site, so you're sure to find one that's right for you!