You might be wondering, what exactly is a barndominium house plan? While many sources (like this article from Architecture Lab) define it as a metal structure with living space, we use the term barndominium house plan more broadly to include any home design that incorporates elements of traditional barn style, like a gambrel roof and barn doors. (Can't get enough of rustic style? Explore our collection of modern farmhouses here.)
If you've always dreamed of a house plan that incorporates a bit of country style, then a barndominium house plan might be what you're looking for. We've rounded up some of our favorite plans, but make sure you speak to a Houseplans representative at 1-800-913-2350 to assist you with finding one that's perfect for you.
Spacious Two-Story Barndominium
This house plan is big on country style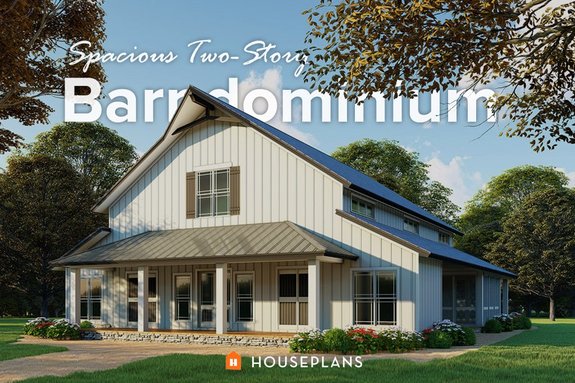 Plan 923-97
The barn house appearance is unmistakable with this spacious house plan. One of the best features is the wraparound porch that seems to go on for miles. Upon entering, you're immediately greeted with a wide-open floor plan that includes a great room, large kitchen with walk-in pantry (and access to the porch), a breakfast nook, and generous mudroom with a shower and commode. The master bedroom and bath is also located on the first floor.
The second floor contains two bedrooms, a Jack-and-Jill bathroom, and three wide balconies that look down onto the great room and kitchen below.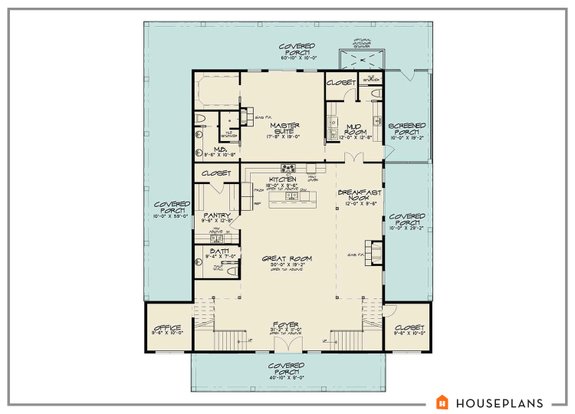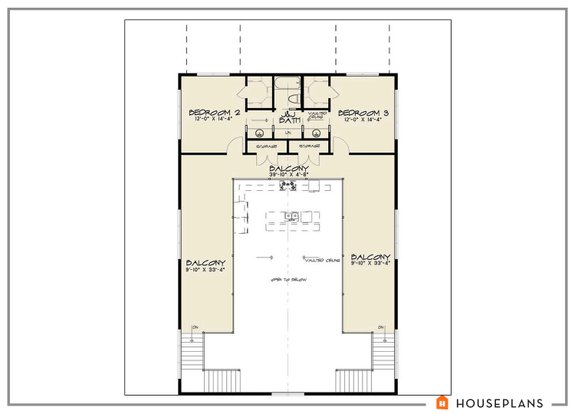 Farmhouse Barndominium
A barndominium plan with modern style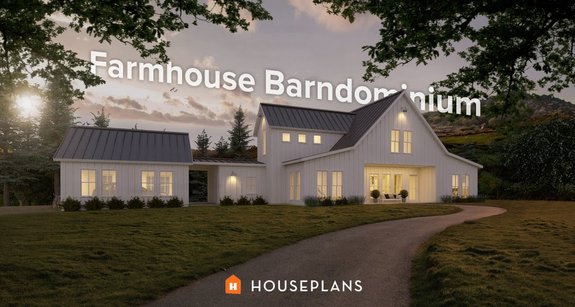 Plan 888-1
This simple design draws on the form and functionality of a barn, and does so with style (much like these barn-inspired house plans from Builder Online). You'll enjoy spending time outdoors on the wraparound lanai. The open kitchen, dining area, and great room provide plenty of space and deliver a relaxed vibe. There are two bedrooms and a bathroom in one wing of the house, while the master suite (with a dressing wardrobe and spacious bathroom) are in the other.
This unique plan features a stair tower that leads up to a study or office area, a covered breezeway connecting the two-car garage, and a large mudroom with space for a washer/dryer.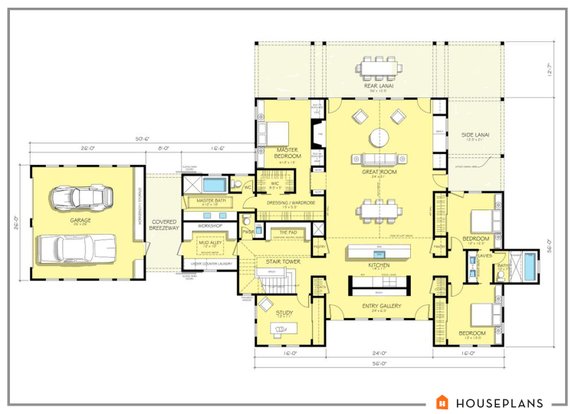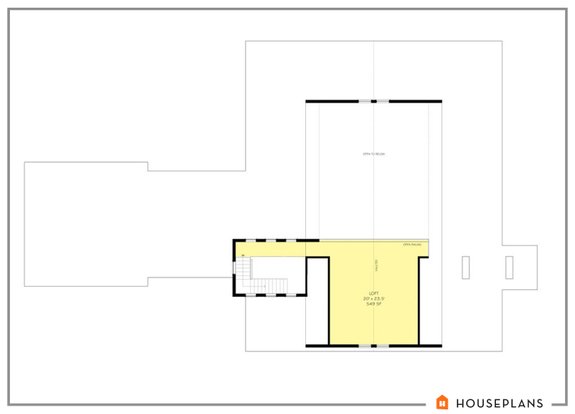 Eye-Catching Barndominium House Plan
This unique design has so much appeal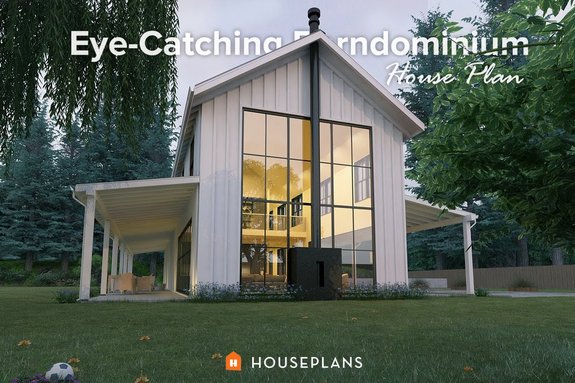 Plan 888-15
This barndominium design employs the traditional look of a barn, and includes the spacious outdoorsy feel of one too. On each side of this high-gabled plan are covered porches, which provide plenty of space for outdoor living (check out these outdoor living trends from Better Homes and Gardens). On one end of the house you'll find the vaulted great room, dining area, and open kitchen that receives generous amounts of natural light thanks to the wall of windows.
At the other end of this floor plan you'll find the master suite (with access to both covered porches), laundry room and powder room. On the second level you'll find two additional bedrooms, a bathroom, and an office/study area that overlooks the great room and kitchen below.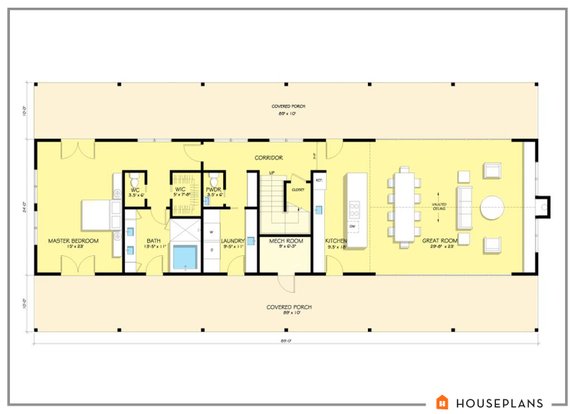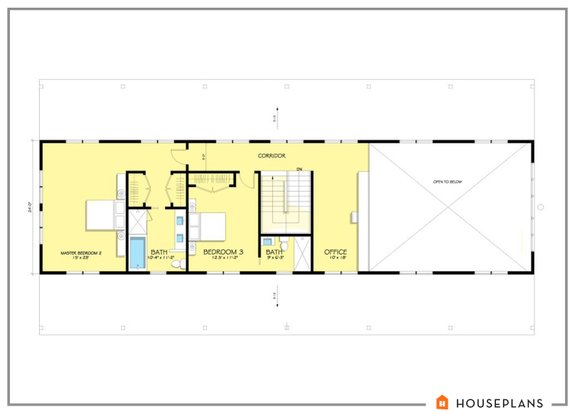 Rustic Barndominium with Curb Appeal
A barn house design that really gives off those country vibes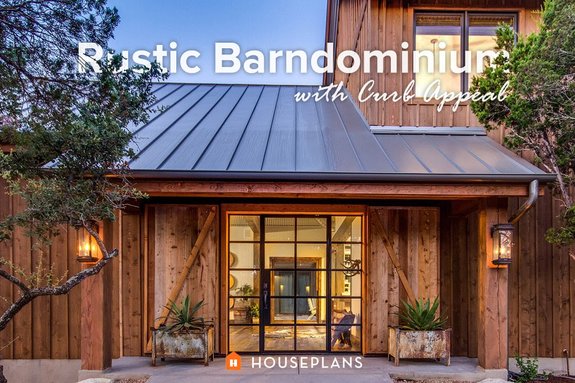 Plan 935-17
If you love the open spaces and woodsy appeal of the country, then this barndominium house plan is right for you. You'll appreciate the exposed timber and woodwork throughout this two-story plan that has plenty of outdoor areas to enjoy. The open living room and dining area flow effortlessly into the spacious kitchen (which features a walk-in pantry and nook for informal dining). As you pass through a galley of windows, you'll encounter the luxurious owners' suite that includes a private courtyard.
The second level has two bedrooms, two bathrooms and a loft space for storage or an office/den.
Barndominium with Country Charm
Take in the views with this barndominium plan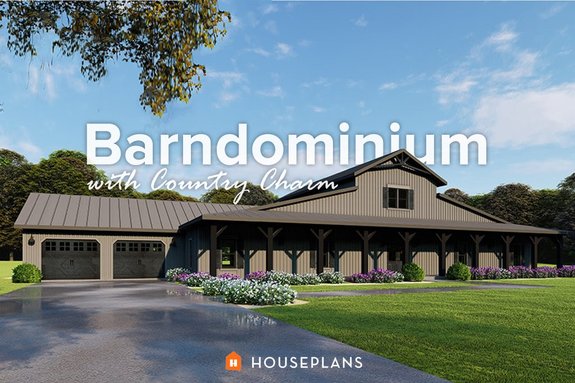 Plan 923-114
You'll love the beautiful views and convenience of one-story living with this spacious barn house plan. As you enter through the covered front porch, you'll be greeted with the wide-open great room that flows effortlessly into the large kitchen. The walk-in pantry and generous island will give you lots of room for meal prep (explore these kitchen ideas from Elle Decor).
There are four bedrooms, two bathrooms, and a central living room in one wing of the house, while the master suite (with a spa-like bathroom) stretches out into the other wing. For extra storage or space, there's a loft that opens onto the great room and kitchen below.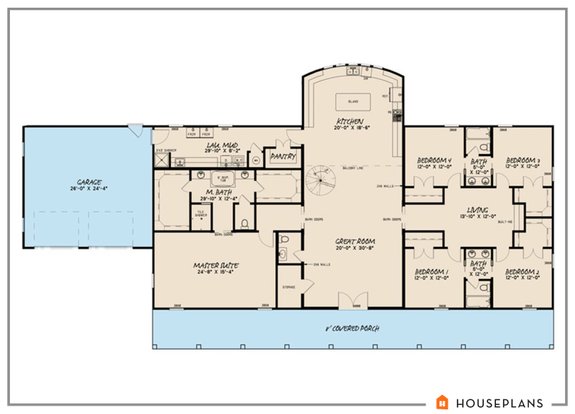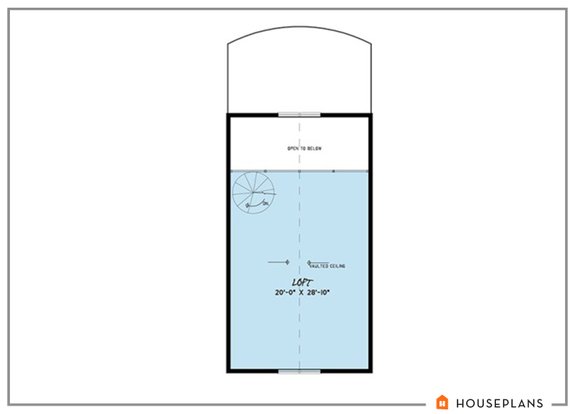 Two-Story Farmhouse Barndominium
You'll appreciate all the country appeal of this barn house design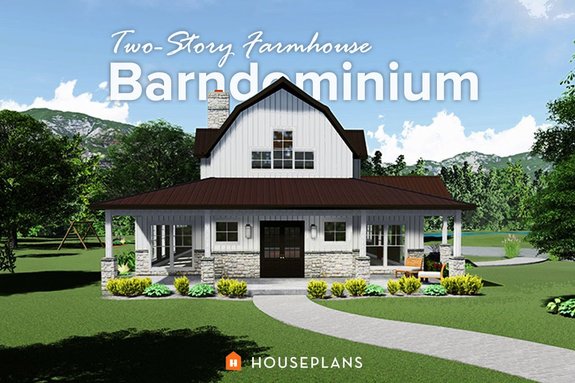 Plan 923-115
Big and beautiful, this barndominium house plan is sure to give you that country charm you've been looking for. You'll love the rustic features of this plan, like the gambrel roof. The covered front porch welcomes you into the open great room, dining area, and kitchen that includes a large center island (that can seat up to six). A grilling porch is accessible from the kitchen for all your barbecue needs. Two bedrooms, a bathroom, and a spacious laundry area reside on the left side of the floor plan. The vaulted master suite faces the rear of the house and includes a bathroom with a freestanding tub and separate shower.
The second level includes a bathroom and a sleeping loft that looks out onto the great room below.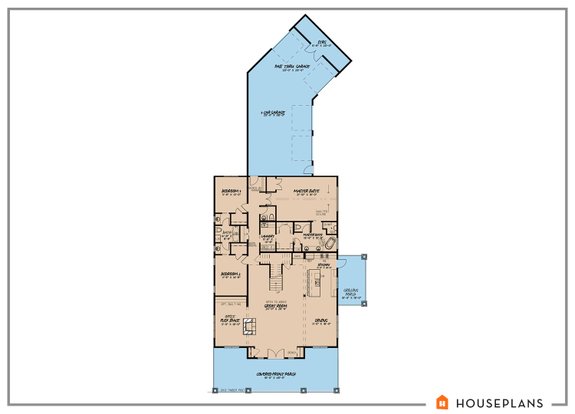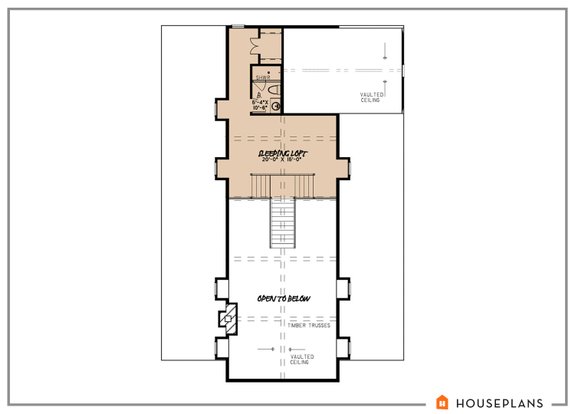 Contemporary Barndominium
Farmhouse appeal with modern features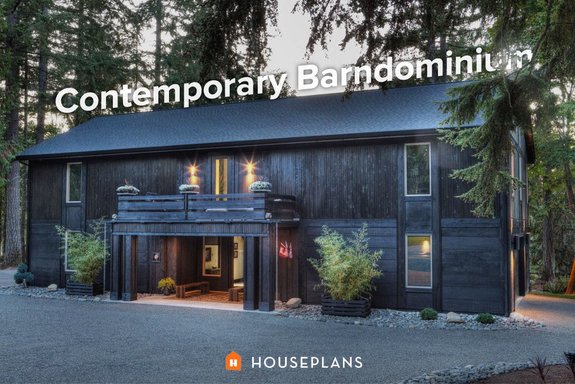 Plan 569-37
Whether you need space for storage or vehicles, this barndominium plan has got you covered. On the lower level you'll find enough space for up to six vehicles and room for a studio or workspace. This level also contains a bathroom and patio to enjoy the outdoors.
A short walk up the central staircase and you're on the main level, which boasts a living room on one side, and an open kitchen and dining area on the other. There are two suites with this house plan, both with bathrooms. You'll be sure to get lots of use out of the second-story balcony that's an ideal spot for relaxing.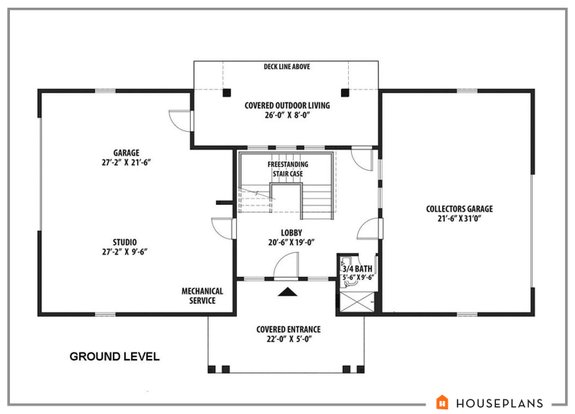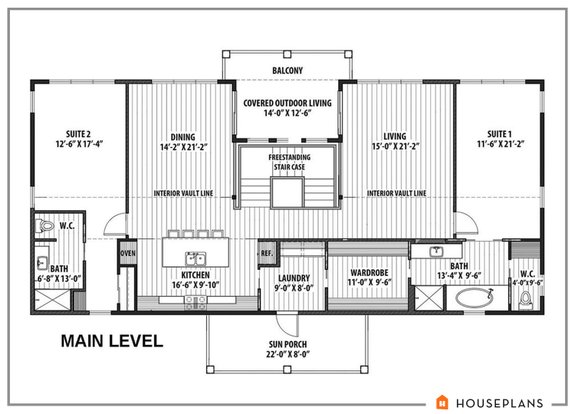 Rustic and Welcoming Barndominium Design
There's no questioning the country inspiration with this layout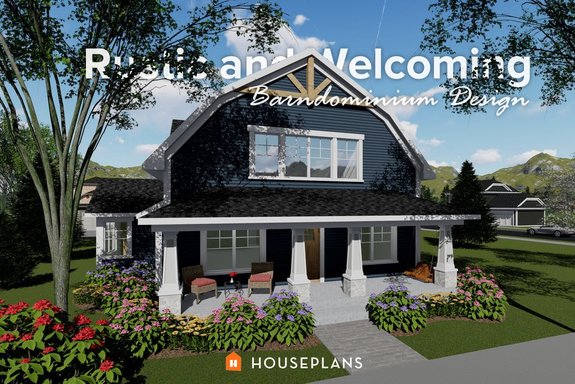 Plan 70-1419
The wide, welcoming front porch of this barndominium creates classic curb appeal. You can't deny the barn-like charm of this design, and as soon as you walk in the door, you'll find it's full of spacious appeal. The great room (with a central fireplace) transitions easily into the dining area and ample kitchen with access to the adjacent sunroom and outdoor deck. In addition to the master suite on the first floor, there is also a bedroom and a bathroom. A third bedroom and bath reside upstairs.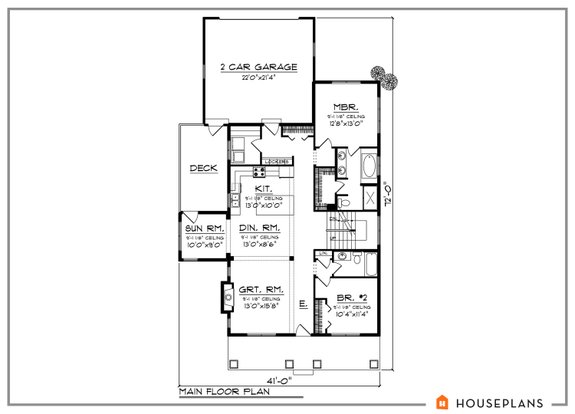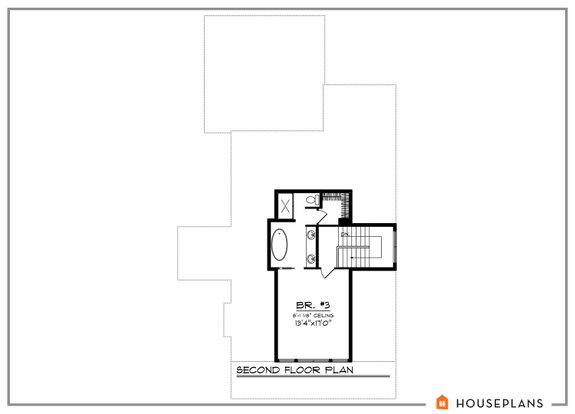 Compact Barndominium Apartment
This smaller house plan has a lot to offer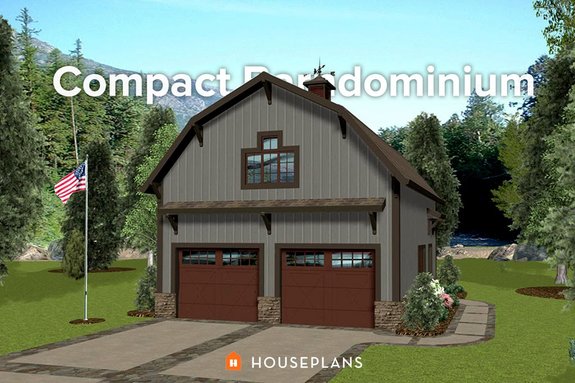 Plan 56-703
Whether you need some extra space for an in-law suite, a guest apartment, or want to downsize, this barn-inspired layout has everything you need. The apartment rests on top of a two-car garage with enough space for storage. On the second floor you'll be welcomed into the kitchen (with a built-in pantry and a linen closet), banquette, bathroom, and sitting area with room for a sleeper sofa. Double doors open to the bedroom which includes a spacious walk-in closet.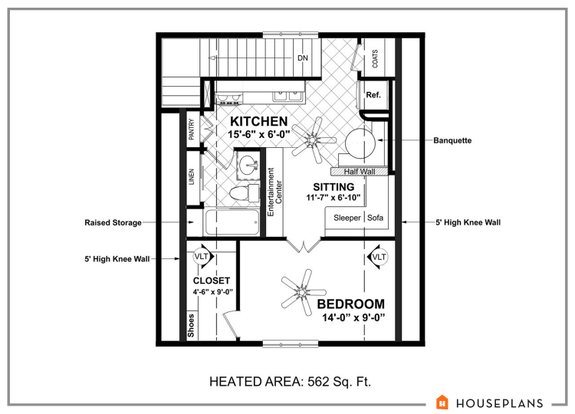 Modern Style Barndominium
Clean lines and spacious living await you with this house plan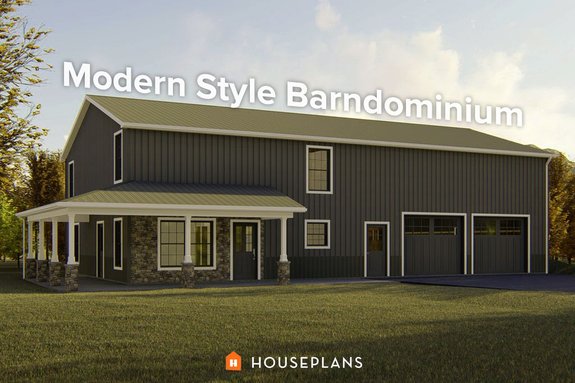 Plan 1064-18
This sleek and modern house plan is perfect for anyone who needs some extra space for storage or work in their garage. In addition to an expansive garage, you'll love the wraparound porch that welcomes you inside. Here you'll find a living area that shifts effortlessly into the open kitchen with a large island. As you move through the mudroom you'll come across a large laundry room, with extra access through the master suite. The master suite includes a generous walk-in closet and bathroom.
The second level contains three more bedrooms, a bathroom, and loft space that would be great for a den or workout area.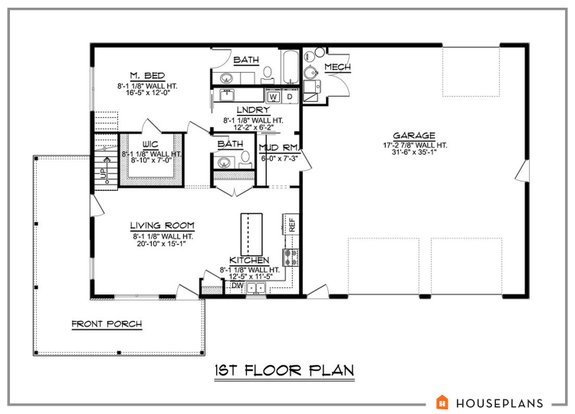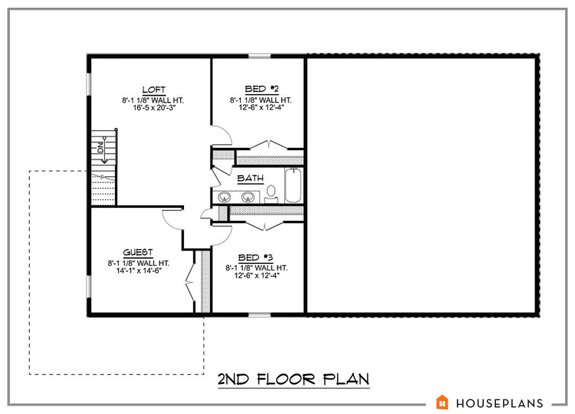 Easy One-Story Living in this Barndominium
Modern convenience meets classic barn house style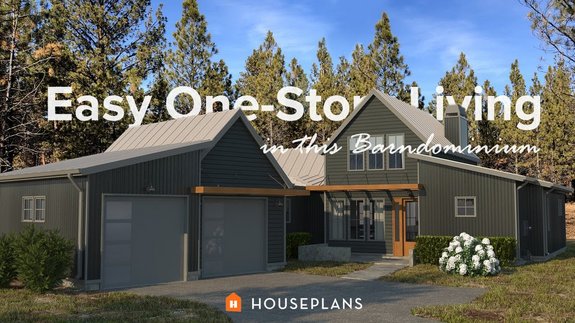 Plan 895-108
This elegant barndominium house plan makes use out of all the space it has. Once you enter through the covered porch you'll be greeted with an expansive great room that flows easily into the open kitchen (which includes a walk-in pantry and large island). Beyond the kitchen are two bedrooms and a bathroom, both of which include built-in closet space.
The master suite includes views of the covered back patio, a large walk-in closet, and a bathroom with dual sinks.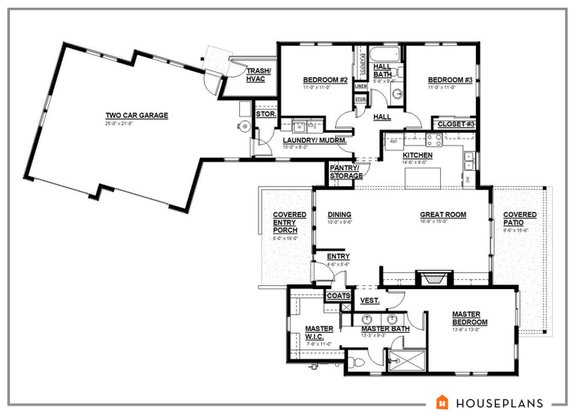 Barndominium house plans and modern farmhouse plans bring a unique sense of style, and are an attractive option for many reasons. Most of these designs can be customized according to your specific needs, so make sure to speak with your Houseplans representative at 1-800-913-2350.